| | |
| --- | --- |
| <![if !vml]><![endif]> | |
Stereopal Home Visit: Shawn Robertson Date: July 25, 2005
" The highest compliment I can give my system is that I never get tired of listening to it"
... Shawn Robertson
<![if !vml]>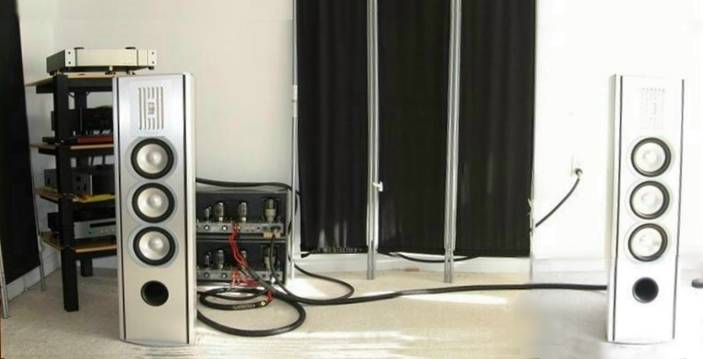 <![endif]>
<![if !vml]><![endif]>

Shawn's system has the best of both world. It has the intimacy and musicality of SET setups, while maintaining the openness and dynamics of Push Pull systems. Such combination is rarely achievable.<![if !supportEmptyParas]> <![endif]>

Shawn introduced me to Piega speakers and I have since fell in love with them myself. The coaxial tweeter/midrange is a proprietary hand made design by Piega. It seamlessly blends itself with the VIFA 8" woofers. It does not over emphasize the Hi Frequencies which are common among most ribbon designs.<![if !supportEmptyParas]> <![endif]>

Shawn is a knowledgeable Audiophile, and he is an active member of the Toronto Audiophile club.
System Components:
CD Player: Cary 306 / 200 HDCD Capable
Pre-Amp: Pass Labs X1 with separate power supply
Power Amp: Granite 860 Monoblock, 2x KT88, 2x 6SN7 30W Triode or 60W Pentode
Speakers: Piega C8 Limited
Line Conditioner: Equi=Tech 1.5Q
Cables:
CD to Preamp: Harmonic Tech Magic Link XLR
Preamp to Power: Harmonic Tech Magic Link RCA
Speaker: Harmonic Tech Pro 9 Bi-wire
Power Cables: Cardas Golden Reference
Rack: Lovan Sovereign
Support Blocks:
CD Player: Symposium Roller Blocks sitting on Bright Star Audio Platform for CD Player
Pre-Amp: Sound Mechanics Cones sitting on Black Diamond Racing pads
Shawn's Comments:<![if !supportEmptyParas]> <![endif]>
General:
Many of today's "audiophile" components are voiced to show off how they can retrieve every last nuance of detail. To accomplish this, there's a tendency to over emphasize the presentation of the High Frequencies. While this gives the illusion of more precise imaging, better sound staging and quicker transients, you lose overall coherency and balance. This is because the highs draw attention to themselves, but away from the music.
My goal is to have a system which presents the nuances, shadings and detail of the music but do so in a way which brings out the meaning of the music. The result should be balanced organic and natural; a system which can grip you or give a sense of ease as the music dictates, a sound the listener will never grow tired of. My components do very well at achieving a seamless blend across the High, Mid and Low frequencies, which culminates in a coherent presentation.
Weakness:
I would very much like a bigger room. My listening room measures 13 x 11.5 ft, which is relatively small. My system would bloom in a room doubled the size. There's a lack of the last bit of solid state punch to the bass, a limitation of the 30 Watts. My Sim W-5 could also play louder at 190 W.
Future Plans:
My future plans include adding an EXACT POWER EP/5A in front of my equi=tech to regulate voltage. I may also want an amp with a touch more power, and with balanced inputs if I could find one that could keep the intimacy and immediacy of my current amp.
| | |
| --- | --- |
| <![if !vml]><![endif]> | <![if !vml]><![endif]> |
" The Pass Lab X1 is a two chassis solid state pre-amp.

There is no way to describe its sound as it is very neutral

and transparent.

I consider it to be one of the best pre-amps in the market.
"

…… Shawn Robertson
<![if !vml]><![endif]>

Smooth and musical, CARY HDCD Player

<![if !vml]><![endif]>

The pre-amp sits on SOUND MECHANICS cones, and Black Diamond Racing Pads.
| | |
| --- | --- |
| <![if !vml]><![endif]> | <![if !vml]><![endif]> |
This is actually the back of the amplifier.

These amps have no roll offs at the top, while maintaining a punchy bottom.

It is certainly one of the most musical KT88 amp I have heard.
<![if !vml]><![endif]>
<![if !vml]><![endif]>

Piega C8 Limited, with Piega's proprietary Hand Made Coaxial Tweeter & Midrange.
<![if !vml]>

<![endif]>