| | |
| --- | --- |
| <![if !vml]><![endif]> | |
Stereopal Home Visit: Jacky Date: Oct 28, 2006
"As with other things in life, one needs to have an open mind and a humble

spirit to excel in High Fidelity."

......... Jacky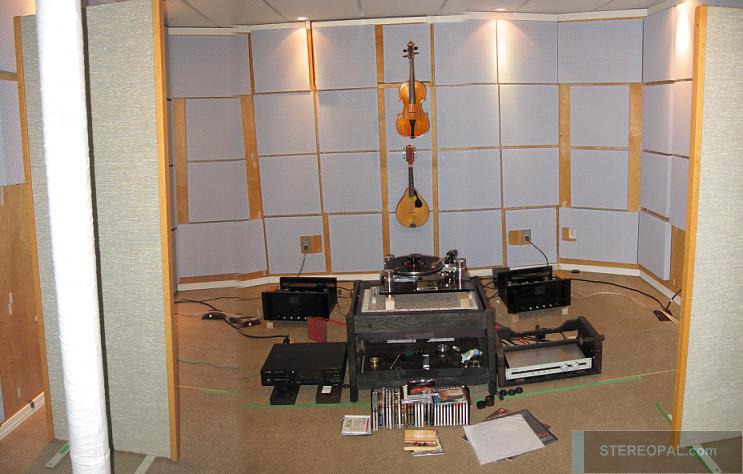 Stitched Photo
Jacky is quite a character. Despite having an amazing sounding system and an impressive record collection, he credits the sonic achievements of his system to his "Audiophile" friends who generously gave him valuable guidance and advice.

He an open minded and a humble person. He carries none of that "My System Sounds The Best" or " I am here to teach you" type of attitude.

He said, the most valuable thing he gained from this hobby is not a good sounding system, but rather the fellowship of his group of audiophile friends who are constantly challenging each other for advancement in audio perfection, while maintaining mutual respect, honesty and humbleness.
System Components:
<![if !supportEmptyParas]> <![endif]>
| | |
| --- | --- |
| Turntable: | Oracle Mk II (Upgraded Version) |
| Tonearm: | Audiocraft |
| Cartridge: | Benz Micro Reference |
| CD Player: | Philips CD 880 |
| Interconnect for CD Player: | Canare Cable 803, Sommer Cable (Germany) |
| Pre-amp: | Spectral DMC-10 with seperate Power Supply unit |
| Powre Amp: | Raymond Lumley Megavox 150 with KT88 x 4, 12AT7 x 1, 6SN7 x 2 |
| Pre to Power Interconnect: | Sommer Cable Galleleo 238 (Germany) |
| Speaker: | Magnepan MG IIIa |
| Speaker Cable: | Madrigal Audio Lab HF 2.5c |
| Turntable Stand: | DIY Ebony Wood stand, Sand Filled platter. |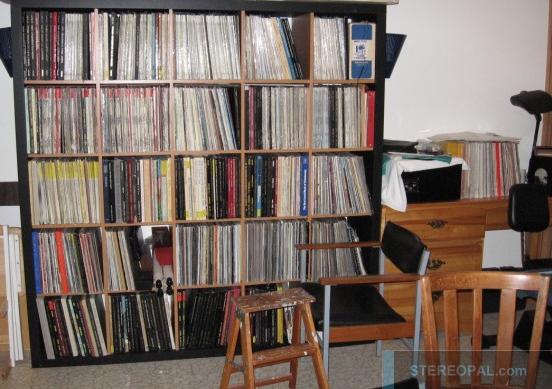 Jacky's impressive record collection, with hundreds of mint condition original pressings.
General Comments:
"I have been an audiophile for many years (20+). For a very long period of time, I wasted a lot of time, money and energy on flipping equipments. When the highs weren't bright enough, I would change to a silver cable. When there wasn't enough low end, I would think I'll need a more powerful amplifier.
As with other things in life, it was not until I humbled myself and accepted criticism and advices from others, that the sound of my system began to drastically improve. I experimented with different room acoustics treatments, and speaker positioning methods. With the help of my Audiophile Guru friends, I believe I have pinpointed the "sweet spot" in my room where equipment synergy is achieved.
The key to achieving good results, is not related to the amount of money you spend in your gears. You can have a poor sounding 100k system. Begin with the proper speaker positioning to find the sweet spot. When you have the room acoustic right, you can make equipments sing. Speaker position and room acoustic is so important, and it will have a greater effect on sound quality than the components themselves. Before you rush out to replace your speakers, or to buy a new Silver Interconnect, being with our room acoustics."
Future Improvements:
I am quite happy with the sound of my system now, but I am always open to new ideas.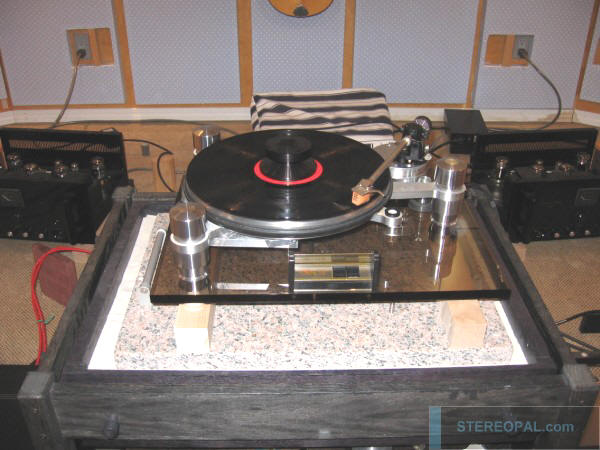 Oracle Mk II, resting on a piece of solid granite, which in turns sits on a sand box suspended in the air. The box has
minimal contact with the wood frame. Vibrations are reduced to the minimal.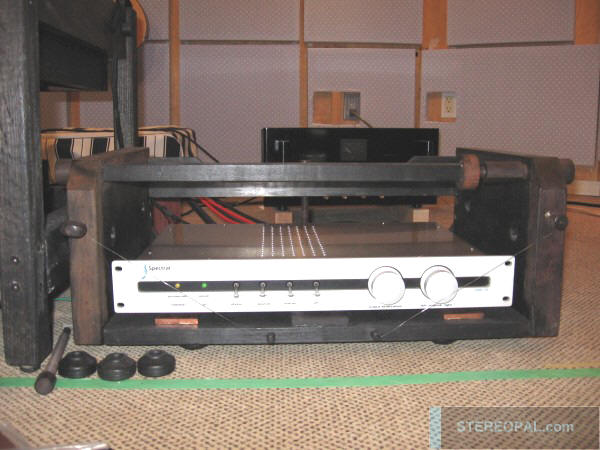 Spectral Preamplifier, resting on an Ebony wood frame.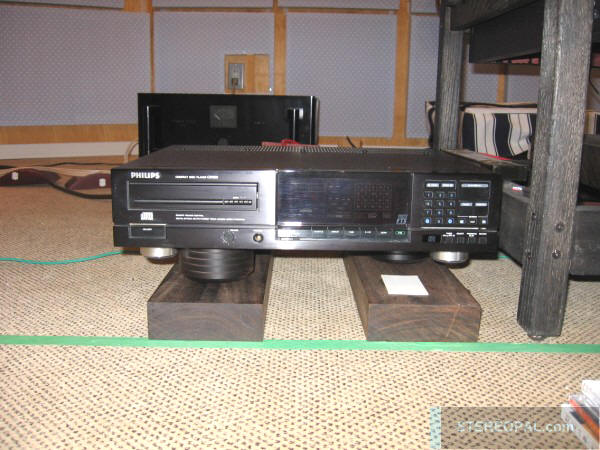 Philips CD player resting on "diamond tipped" solid ebony blocks.
| | |
| --- | --- |
| Raymond Lumley Power Amplifier | Bias controls are located on the front, allowing for easy adjustments. |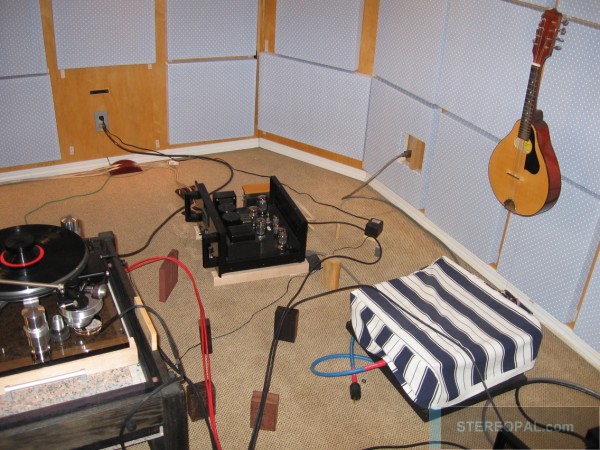 Every cable is supported by Ebony or Purple heart solid wood blocks.
| | |
| --- | --- |
| This is the back of the Maggies. Notice the Ribbon Tweeter unit is placed on the inside on purpose (i.e L/R speakers switched positions). | |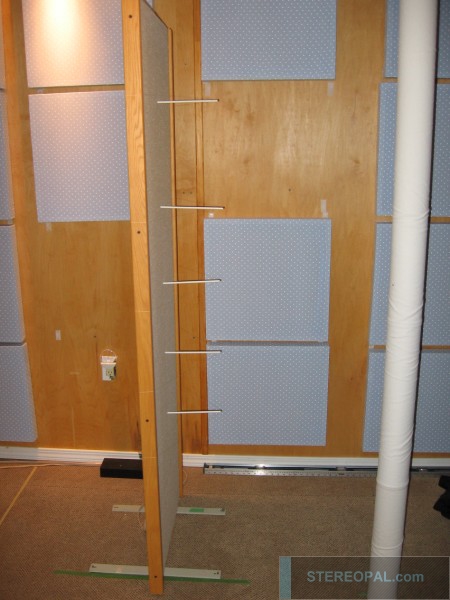 | | |
| --- | --- |
| | DIY Blue panels, they work remarkably well as sound absorption panels. I could detect minimal low frequency resonance despite the fact that we were in a very small room. The wooded sticks suspended in mid air via monofilaments lines, is a special DIY tweak. |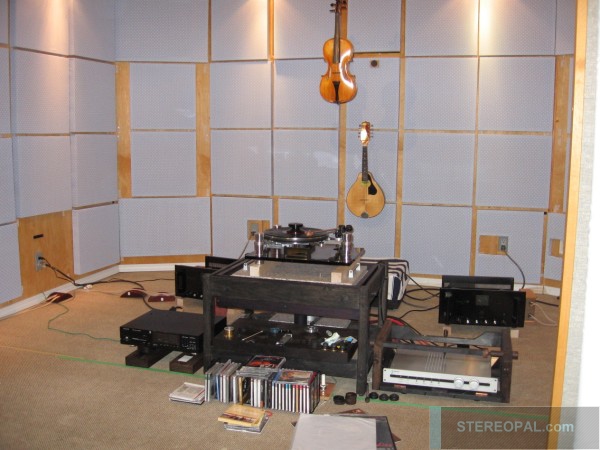 What a nice looking set up............. All I can say is " the man knows his shit well ! "
<![if !vml]>

<![endif]>