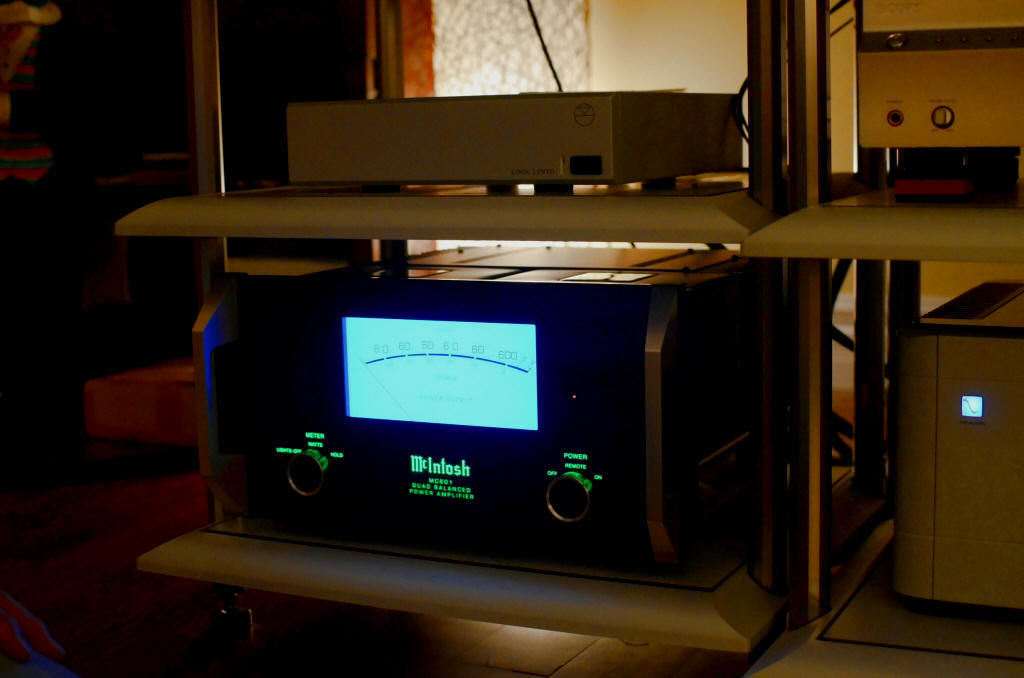 One and a half hour later, we managed to get the amp onto the rack.
When I first turned on my very own MC2KW amplifier for the very first time, they were badly in need of break-in time which eventually eroded away the initial brightness and edginess. To my surprise, the MC601 was a lot more mellower right out of the box without any signs of harshness or edginess. The MC601 seems to have a livelier presentation vs the MC501. The stereo image seems to be more vivid, and well structured. Fresh out of the box, I am already very satisfied with its sound.. There is a sense of effortless which reminds of the MC2KW, yet it has no shortage of power to completely take control of the 13" woofers on the Nova Utopia.
The main difference between the MC501 and the MC601 is the advantage of having the ThermalTrak transistor which have been trickled down from the flagship MC2KW model. The ThermalTrak continuously monitor operating temperature in real time, which allows bias to be adjusted continuously to ensure maximum efficiency the lowest possible output distortion. In other words, the MC601 is a always cruising at low rpm. The front of the amplifier now has the big handles and thick glass face panels. The binding post at the back is printed with the words "McIntosh" on them, and are probably the nicest I have ever seen.
The listening room which we were in is approximately 20' x 40' with a 15 ft ceiling, the amount of air which needs to be moved to achieve a reasonable concert hall sound level is quite substantial. It demands an amplifier with no shortage of quick transient as well as reserve power. Carlo had previously attempted to drive the Utopias with the Classe CA400 and the Bryston 7BSST. Both were reasonably qualified for the task with the Bryston having the upper hand with brute power, and the Classe with musicality and a feminine finesse .
The MC601 is the combination of the two, exercising a firm control with nearly unlimited power in the bass region, and a full sense of tuneful liveliness in the mid range as well as the highs. Music extended into every corner of the room, with grandness and gracefulness. Yet, the Sentry Monitors on the MC601 provides the assurance that you will never have to worry about the amplifier going into clipping at any music volume. The amplifier projected live size stereographic images which edges which are not blurry or smudged, this is very difficult to achieve in a big open space.
I will go back to listen to the amps again in two weeks time, by that time they should have a lot more hours into them which will provide me with a better sense of the real potential of the MC601.